…as 3-year project comes to fruition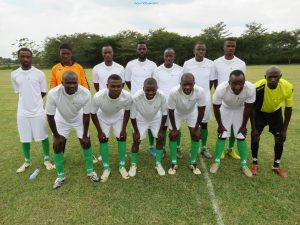 Old Mutual FC were recently crowned the 2019 Financial Services Soccer League (FSSL) champions, becoming the first team to do so in an enlarged league which now has 14 teams, up from the 10 which competed in the 2018 season. Though they were impressive all season, Old Mutual failed to match the exploits of the outgoing champions CABS, their sister team from the Old Mutual Group, which finished the 2018 season undefeated. However, while CABS were declared champions with a game in hand, Old Mutual did it in even greater style, so dominant were they that they won it with four games to spare. CABS came second while Standard Chartered Bank completed the top three. Old Mutual were in third position last year behind CABS and FBC Moola. MFSB Sport recently caught up with Shepard Mabvure (SM), the club's secretary general, who shared the story of the club's quest to emulate sister company CABS, which triumphed in 2018.
MFSB Sport: Congratulations on your triumph. Incidentally, another team linked to the Old Mutual Group, CABS emerged champions last year.  Is this by design or default?
SM: Well, well it's all about bragging rights…to say who is the elder brother between the two? So CABS drew first blood and we had no choice but to up our game and it worked.
MFSB Sport: What would you attribute the team's success to?
SM: Our success is not a one-year story but it was about keeping the same team for about three to four years with very few additions for those who left the organisation. So in terms of combinations… they were working quite well.
MFSB Sport: During this season, what was the composition of your squad in terms of staff and non-staff players?
SM: As per league regulations we can register 25 staff players and 5 non-staff players and we took that option for the season.
MFSB Sport: Who would you say were your most influential players this season?
SM: That's a difficult one as we were playing as a team, but I would say Ronald Maketo gave it his all, complemented by Lisel Matangambiri. Special mention also goes to Gilmore Madura and Simon Takwara.
MFSB Sport: After coming 4th in 2017 and 3rd in 2018, did you set out to clinch the big one this year?
SM: The OM FC Executive mandated the Technical Team to improve on the 2018 position so coming first or second was fine given the competition that was in the league. So coming first was more of a bonus this season as we had targeted 2020 to be our year!
MFSB Sport: Which aspect of your game improved significantly this year to help you clinch the championship?
SM: There was great improvement in terms of defending and the strikers were also ruthless in front of goal. As you can see on the log we scored a massive 123 goals and conceded only 17.
MFSB Sport: What have you got to say about the level of competition in the league, especially after four new teams joined the league in 2019?
SM: I feel it's improving with each passing year. Back then there was a clique of big teams and the rest were small teams but now… wow, victory against any team is not guaranteed. Teams are improving.
MFSB Sport: What can be improved in terms of how the league is run?
SM: I feel we need to start our league programme in time to avoid fixture congestion come end of the season. Playing two games in a single day took a toll on some teams. Using three match officials – resources permitting – should also be considered.
MFSB Sport: So, what are the club's plans for next season?
SM: We feel we have the right players and technical team to lead in the defence of the title and we are confident we will retain the title.
MFSB Sport: Do you think it will be easy to take your League form to the FSSL Payserv Cup Tournament, if it is played this year?
SM: Cup games are very unpredictable, and one thing that is certain is that every team will have a point to prove against us. But we will try and clinch it.
MFSB Sport:  In his congratulatory note, outgoing FSSL Chairperson Ivan Vambe spoke of competing "under very difficult conditions during which many sacrifices were made to enable the league to conclude successfully." What challenges did you have to overcome during the season?
SM: Obviously the environment was not that conducive especially in terms of budgeting. Special mention goes to our sponsor Old Mutual Zimbabwe for funding the team till the end.
MFSB Sport: Other teams will obviously be targeting the championship next year. Are you thinking of strengthening the squad in the off-season in order to compete at the same level in 2020?
 SM: Our team looks good enough to defend the title, we might replace those who would have left the organisation but as of now there are no indications of any players leaving.
Team Profile:
Name of Team : Old Mutual FC
Nickname:The Green Machine
Coach: Titus Sanangurai
Team Manager :Tawanda Masekesa
Year of Establishment :1995
League Titles To Date :5 Insurance league titles and 1 FSSL league title.
Other Cups Won To Date: Non in the FSSL
2018 League Position : 3
Home Ground : Old Mutual Sports Club
Team Colours (Home & Away): Green and White
Chairperson : Joseph Muchena
Secretary General: Shepard Mabvure
Committee Members :Mike Kapachika (Vice Chairman), Kudakwashe Chimamise, (Treasurer General), Wellington Manatsa, Philip Tsoka, Zvenyika Zvenyika (Patron) & David Nhira (honorary President)
A Comparison of Old Mutual FC's Performance in the 2018 and 2019 Seasons
| | | | | | | | | | |
| --- | --- | --- | --- | --- | --- | --- | --- | --- | --- |
| Year | Position | P | W | D | L | F | A | GD | PTS |
| 2019 | 1 | 26 | 24 | 1 | 1 | 123 | 17 | 106 | 73 |
| 2018 | 3 | 18 | 13 | 1 | 4 | 82 | 17 | 65 | 40 |
©MFSB Sport
Please get in touch on info@soundgarden.co.zw to comment on this story.